"Mene Mene"
The Sum of Two Evils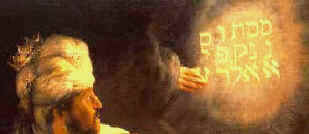 The deaths of Uday and Qusay,
sons of Saddam the madman,
in fulfillment of the mene-tekel bible code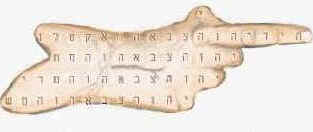 You may find this article in its entirety here, published Sept. of 2001.
The hand-code is found several verses before the mene-tekel-code of Daniel 5.
There are also many parallels between this code and Babylon/Saddam.
(See here for the mene-tekel code as it relates to Saddam.)
You can see the similarities for yourself, and no commentary is really needed.
I believe this code, however, has particular reference to a future battle against Jerusalem by another "Babylon." Thus, the code pertains to that future wicked one called the anti-Christ, of whom Saddam was a foretaste.
---
The words that make the form/outline of a hand read:

"The Hand of Jehovah!"

Note: 'mene-tekel-peres' was applied by Daniel to Babylon and her king;
the bible code repeats this application, though with a subtle application to Christ as well.

Each line consecutively
starts from a finger

Notes

"Jehovah?
Forms thumb (ELS +14); the remaining four lines below read along the fingers (ELS +1).
Is it the hand of Jehovah? He Himself went to war. He put him to death!
*** Or, to make the before mentioned acrostic, it can leave out the last letter of the first line and read: "Jehovah---Did the hand of Jehovah go to war? Even, I put to death!" (See Deut. 32:39)
Jehovah goes to war against her (i.e., 'Babylon'), and the arrogant one! (or, 'succulent one')
Cf., Isaiah 5:17.
Or, "...and the Suckling Lamb," i.e., Jesus!
Jehovah goes to war against her, and the rebellious one!
Or, "...and the rebellious ones," or "...The Rebellion," or "...the Sorrowing One," i.e., Jesus!
Jehovah goes to war against her, and the one being removed!"
Or, "...for he shall be removed!" or, "...and the one being shaken." I.e., a play on words: Belshazzar shook for fear when he saw the hand that foretold his removal from being king, and was put to death that same night, see Daniel 5.
(There are two separate pictures of the hand, one is seen when the letters are arrayed at 14 letters per row, and the other at a matrix of 15. The switching from one matrix/hand to the other is what makes the hand 'move.')
The "Wheels" Explain the Above Code
Click here to continue to part 2