Picture-Bible-Code of
Tree/Lamp/Scale
(Click here for first article)
(Isaiah 46:1-6)
The text where the picture-code is embedded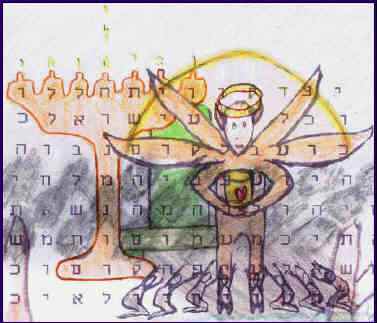 (Remarkably, this picture bible code not only interprets the immediate text in which it is embedded, but it also embodies the imagery found throughout Isaiah chapters 40 to 53, thereby interpreting much of it.)

Isa 46:1

Bel boweth down, Nebo stoopeth; their idols are upon the beasts, and upon the cattle: the things that ye carried about are made a load, a burden to the weary beast.

Isa 46:2

They stoop, they bow down together; they could not deliver the burden, but themselves are gone into captivity.

Isa 46:3

Hearken unto me, O house of Jacob, and all the remnant of the house of Israel, that have been borne by me from their birth, that have been carried from the womb;

Isa 46:4

and even to old age I am he, and even to hoar hairs will I carry you; I have made, and I will bear; yea, I will carry, and will deliver.

Isa 46:5

To whom will ye like me, and make me equal, and compare me, that we may be like?

Isa 46:6

Such as lavish gold out of the bag, and weigh silver in the balance, they hire a goldsmith, and he maketh it a god; they fall down, yea, they worship.